MSI GTX 560 Ti Twin Frozr II OC Graphics Card Review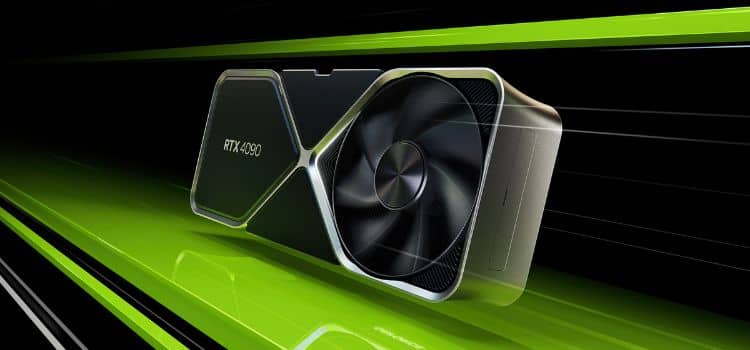 When the behemoth Nvidia GTX 580 launched, we found it to be a very impressive card, having corrected the power, heat, and noise problems that plagued its GTX 480 predecessor. Experience powerful and efficient gaming with the MSI GTX 560 Ti Twin Frozr II OC graphics card.
Then not long ago came the GTX 570, lowering the performance and price a notch while managing to hold off AMD's flagship 6970. And now Nvidia is looking to continue their success with today's launch of the GTX 560 Ti, bringing performance to the masses.
Beyond the reference design card, some manufacturers are taking what appears to already be an impressive product and pushing things further, with improved power distribution, custom heatsinks for lower temperatures, factory overclocked settings, and even voltage tweaking capabilities for enthusiasts who want to extract the most our of their graphics card. MSI is bringing these with the release of their GTX 560 Ti Twin Frozr II OC.
Overlook
Featuring a sleek custom heatsink design, beefy power components, and a strong factory overclock, this MSI card appears to have its sights set on the Radeon 6950. At a price of $260, the Frozr II OC doesn't cost much more than the reference Nvidia card, but it comes with a boatload of more features, not to mention impressive overclocking headroom.
So let's jump in and take a closer look at the MSI GTX 560 Ti Twin Frozr II OC and find out just how fast it is.
Established in 1988, MSI Microsystems Ltd. is well-known for manufacturing stable, excellent, and innovative graphics accelerators. As one of the top PC components manufacturers, MSI continues to provide top-to-bottom graphics cards with stable and excellent quality to the world.
GTX Lineup
The GTX 560 Ti continues to bring the GeForce 500 series forward, and this time down into the mainstream performance market. With an MSRP of $249 for the reference design, its sits above the wildly popular GTX 460 both in terms of price and performance, so Nvidia won't poach its own lineup with the launch of this GTX 560 Ti.
There are several changes from the GTX 580 and 570 flagship cards here on this new card.
This first and most obvious difference is the naming convention. Nvidia has eschewed the previous naming somewhat and has added a "Ti" suffix to the card's name. Considering this is a reference card, the additional nomenclature is a bit surprising. Nvidia hasn't used the "Ti" moniker in a decade, so the suspicion here is it's a marketing move to appear better positioned against the Radeon 6870 and 6950 competition.
I've always believed that the product should stand on its own merits, and as we'll soon see, the GTX 560 Ti is quite impressive, to begin with. Interestingly, the GTX 560 Ti is based on a new refresh GF114 chip, similar to the previous GTX 460 for the most part but instead uses the full 384 stream processors available rather than the neutered 336 on the predecessor.
The GTX 460 was (and still is) an impressive card, so we'd expect much of the positives to carry over to the 560 Ti while giving a tantalizing performance boost.
Another notable characteristic of the GTX 560 Ti is the memory drops down to a 256-bit interface, along with 1GB of GDDR5 rather than the 1.536MB of the GTX 570. Lastly, the clock speeds have been slightly increased to 822MHz core and 1002MHz memory.
Starting with the package and accessories, the MSI GTX 560 Ti Twin Frozr II OC comes in a black and blue box that sports the same gun motif that we've seen on their other Twin Frozr II graphics card product boxes. Most notable is the lower temperatures provided by the custom heatsink, along with the inclusion.
Inside the box, MSI has included an extensive accessory package, with a Quick User's Guide, driver installation disk, two Molex-to-PCIe power cables, a DVI-to-VGA connector, and a mini HDMI-to-HDMI connector. Also included here is a free couple for 3DMakr 11 Advanced Edition, a $20 value. Very nice.
Closer Look Of MSI GTX 560 Ti Twin Frozr II OC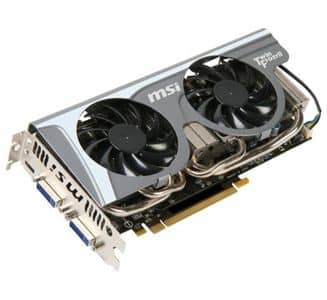 As you can probably guess from the lengthy name, this MSI GeForce GTX 560 Ti Twin Frozr II OC is not a standard reference card. I often see custom cards and heatsinks from MSI, and this one continues that trend.
The most significant feature of the card is its cooler, the Frozr II, a slim and sleek heatsink that features dual 80mm fans rather than a single one found on the reference Nvidia card. The metal shroud sports a silver color, and if you look closely, the right side of the shroud extends beyond the PCB, and the white accent makes it look like a gun.
MSI has gone with a black PCB, and while aesthetics are entirely a personal matter of preference, we do think the card looks great and should fit nicely with just about any motherboard or case aesthetic out there. Also, note there is only a single SLI finger here, so tri-SLI is not an option.
The GTX 560 Ti Frozr II requires two 6-pin PCI-E power connectors, no different than the reference card design. The power consumption of this card should be much lower than the previous series cards as well, so we'll look at that a bit later in this review. Unfortunately, the power connectors are end-mounted rather than the end-mounted design we found on the reference card, which could cause space issues in a tight case setup.
The rear of the card sports two Dual-Link DVI connectors and a single mini-HDMI connector, standard on modern Nvidia cards. An interesting design detail is the MSI logo cutout on the metal plate.
Under the Hood
The beauty of the Frozr II heatsink is its use of beefy 8mm heat pipes and nickel-plated copper base, not unlike many top CPU coolers we often see. This design helps quickly dissipate the heat and helps control the GPU's temperature. We'll take a closer look at the temperatures shortly in this review. Here's a look at the cooler unmasked.
Here we see the naked card: black PCB, memory chips arranged in a C-shape surrounding the GPU, beefed-up power design, and two end-mounted power connectors. To the right is the improved power design so let's take a closer look.
This is where MSI's Military Class II Components come into effect. Here we see the Hi-c capacitors with tantalum cores and the Super Ferrite Chokes. These are designed to withstand greater heat and voltage and improve durability. Obviously, we can't verify these claims in such a short time span, but we do know that better components mean longer lifespan, particularly in an overclocked situation.
Lastly, the GTX 560 Ti Frozr II comes with Samsung K4G10325FE-HC04 GDDR5 memory ICs, the same as what we saw on the GTX 480, for example. We're very familiar with these memory chips, and we expect some great overclocking from them.
Let's move along to the test setup and take a look at the benchmark results, then some overclocking to see what we can accomplish.
Under the Hood
Our test system is designed to approximate at least what a typical gamer might use (or a similar level). In order to consistently compare against other graphics cards and avoid any bottlenecks, we use a quad-core CPU to take advantage of any games that may benefit from the additional cores. However, we've overclocked our quad to 3.8GHz which is fast enough not to become a bottleneck at "normal" gaming resolutions.
Below is our test system configuration:
Setup
Our testing suite runs the gamut of synthetics and different gaming engines that will help provide a more complete picture of a graphics card's capabilities. A couple of these game titles are slightly older, but they feature popular engines so we've included them to help show how a card can handle those situations.
The testing included the following software:
3DMark 11, Vantage
3DMark Vantage
3DMark Vantage is a synthetic test and a successor to the venerable 3DMark06. CPU scores can drastically affect Vantage results, as well as the PhysX capabilities of Nvidia cards, so only the GPU scores are reported here.
In 3DMark Vantage, we see the MSI GTX 560 Ti finishes ahead of the Radeon 6950 and even eclipsing the previous-gen GTX 480.
3DMark 11
3DMark 11 is the latest version of the world's most popular benchmark. Designed to measure your PC's gaming performance, 3DMark 11 makes extensive use of all the new features in DirectX 11 including tessellation, compute shaders, and multi-threading.
These are synthetic tests though, the real tests are in the gaming arena, so let's head there now.
Call of Duty: Black Ops
Call of Duty: Black Ops is the latest installment in the famous first person shooter franchise, taking you back to the action through Cold War and Vietnam campaigns. Based on the developer's proprietary engine, the game is shader-intensive and features beautiful DX9 graphics, striking lighting and contrasts, and dynamic shadows.
Black Ops allows much higher antialiasing than in previous CoD games, so we've cranked it up to the maximum at 16xAA.
Here we see the MSI GTX 560 Ti trades blows across the resolutions with the 6950, and can easily chew through this game engine with all the eye candy cranked up to maximum, even at 1920 resolution. Impressive.
Summary
The quick summary right off the bat is the MSI GTX 560 Ti Twin Frozr II OC takes what is already an impressive graphics card and pushes things to the next level. Continuing the success of the GTX 580 and 570, this new card brings excellent performance to the mid-range performance graphics card market. We're still perplexed by the naming nomenclature, as we suspect this has to do more with performance perception than reality.
In terms of performance, we saw the MSI GTX 560 Ti Twin Frozr II OC easily beat the Radeon 6870 in just about every facet, but more importantly trading blows with the 6950. There were a few game titles that preferred Nvidia cards overall, and the GTX 560 Ti really stuck it to the Radeon competition.
As for overclocking, the Frozr II OC has some amazing headroom, about 26% higher than stock clocks on the core. And don't forget the PhysX properties and what will be excellent Folding @ Home performance as well.