iPad vs Macbook: What's Best for Your Graphic Design Work
I know many of you are in a great dilemma about choosing the best device for your graphic design. And it is worth considering twice before you get into the comparison of iPad vs Macbook for graphic design.
However, to argue fairly on this topic, we must look at some of the most important things you can't ignore. 
Take a MacBook or iPad; both are designed by Apple, but a slight difference can make your creative work questionable. So, in this article, let's learn about these tools, their features, pros, and everything possible to make your decision easier.
Macbook vs iPad for Graphic Design
Alright, now let's see some vital points to compare the two Apple devices and find out which one would be suitable for your graphics designing work.
1. Performance Comparison
Macbook: There is no question about the power of Macbooks. In a Macbook, you can get a high-performance processor, ample RAM and a high-quality GPU. Hence, it can handle all types of complex graphic designing and video editing and still give you a seamless experience. 
Talk about larger screen models like the Macbook Pro, which can elevate your designing experience to the next level.
iPad: However, if you underestimate the capabilities of an iPad, it isn't wise either. With its sleek tablet designs, the iPad Pro series is a powerhouse of creativity. 
The most essential part of an iPad, its Apple pencil, is the centre of your design experience. Additionally, the iPad's mobility doesn't compromise performance – it can handle demanding design tasks remarkably well.
2. Software and Apps
Macbook: One of the Macbook's strengths lies in its access to the complete suite of macOS software. Design giants like Adobe Creative Cloud, Sketch, and Affinity Designer run seamlessly on Macbooks, providing a familiar environment for graphic designers. 
With plenty of professional-grade software, your work will be more artistic and promising.
iPad: While the iPad may not have the same extensive software library as the Macbook, it compensates with a unique selection of apps optimised for touch and stylus interaction. 
Procreate, Adobe Fresco, and Concepts are tailor-made for the iPad, which offers an intuitive and hands-on design experience. With the help of the iPad's touch interface, you can bring your creativity level to the next step.
3. Mobility and Portability
Macbook: Portability is where the MacBook stands slightly behind. Although thinner and lighter models exist, they still can't match the sheer convenience of an iPad. Hence, if you're frequently on the move, a Macbook might feel bulkier to carry around.
iPad: The iPad is a designer's dream companion on the go. Its lightweight and slim form factor makes slipping it into your bag a breeze. Whether you're sketching concepts during a commute or presenting your portfolio at a coffee shop, the iPad's portability is remarkable.
4. Design and Ergonomics
Macbook: The MacBook's keyboard and trackpad are designed for precision and comfort. Hence,  if you're accustomed to a laptop setup, the Macbook's ergonomic design will feel like second nature. Its larger screen size also provides enough workspace for intricate designs.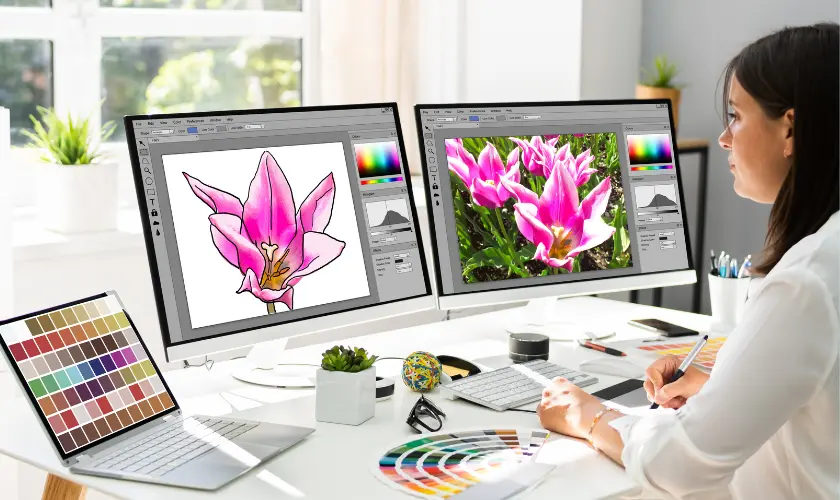 iPad: The iPad's touch-first design philosophy offers a more hands-on approach to creativity. Together with the Apple Pencil, it feels like having a canvas and brushes at your fingertips. Also, the process of drawing directly on the screen lets you feel your work more precisely. 
5. Cost and Value
Macbook: Quality often comes with a price, and Macbooks are no exception. Choosing a Macbook is a lifetime investment, where you don't have to worry about its performance and quality.
So, if you're serious about graphic design as a profession, a Macbook might be a worthy splurge.
iPad: iPads, especially the iPad Pro models, offer a more budget-friendly entry point for budding designers. With these, you can get remarkable performance and creative capabilities at a more affordable cost.
Hence, you can say it's best for students or freelancers beginning their careers as graphic designers. If your budget is very low, you can go for the iPad 10th or 9th gen models.
Final Decision:
So, have you decided yet? It is certainly difficult to find the conclusion of ipad vs macbook for graphic design. So trust your needs and preferences.
If you need the processing might and full software suite, the Macbook is your artistic partner. Recently, Apple launched the Mac Air M2 15-inch model, which will be a per cent budget choice for your graphic-related tasks.
On the other hand, if you value mobility, touch interaction, and a more immersive creative experience, the iPad will make the best companion.
FAQs
Does the Macbook Pro have a touchscreen?
No, Macbook Pro models don't feature touchscreens. However, they offer a fantastic trackpad and Touch Bar functionality.
Is the Apple Pencil compatible with all iPad models?
No. The Apple Pencil is compatible with some specific iPad models, like the iPad Pro and the latest iPad Air.
Which device is better for 3D modeling?
For resource-intensive tasks like 3D modelling, a high-performance Macbook would be the preferred choice due to its superior processing capabilities.