How to Choose a Motherboard for Gaming PC Build
Gaming is all about a better CPU & GPU with high-end performance. And these two components are nothing without a capable motherboard. Therefore, If you want to build a gaming PC or buy a pre-built one, you must choose a motherboard capable enough to support all the necessary parts you need to build the gaming PC.
And sometimes, it becomes very difficult to choose the perfect motherboard for your gaming PC. Hence, choosing the right motherboard for your PC is one of the most important decisions to make. 
This article will try to convey the importance of choosing the right motherboard and the best ways to select it for your gaming PC. All right then, let's move on to the topic.
11 Essential Points to Choose A Gaming Motherboard
1. Socket & Chipset
While choosing the motherboard, make sure it supports the socket that your processor is compatible with. Suppose you've bought the latest 13-gen Intel Core i9 13900K, then you should buy an Intel Z790 motherboard supported by LGA 1700 socket.
However, you should remember that AMD and Intel processors have different sockets and chipsets. Now, if you cannot use an Intel processor on an AMD-supported motherboard. In addition, in many cases, processors from the same manufacturer don't support the same motherboard due to their generations.
Few Basic important points;
If you want to experience the Thunderbolt technology, go for an Intel motherboard because only a few AMD motherboards come with this technology.
If you need a PC that can do a better multi-core performance, without any doubt, choose the AMD Ryzen 7000 series processors.
And for gaming, I recommend you choose either Ryzen 7000 series or the Intel Core i5-i7 13th gen CPUs. These processors are highly capable of running any high-end game smoothly.
2. PCI Express x16 Compatability for Graphics Cards
The graphics card is the second most important component in a gaming PC after the CPU. Without a good GPU, you cannot experience smooth visuals in gaming. Hence make sure your desired motherboard support the latest PCIe Gen for graphics cards to help you upgrade in the future.
In the current graphics card market, you can see PCIe 4.0 as the latest gen in RTX 30 and 40 series cards. And for Radeon, RX 5000, 6000, and 7000 graphics cards are compatible with PCIe 4.0. However, Intel's Z790 motherboards are already compatible with PCIe 5.0 graphics cards.
Anyways, if you're palling to build a budget gaming PC, I'd recommend RTX 4070 graphics cards; otherwise, you can choose RTX 4090 cards for a high-end gaming experience.
3. Form Factor
The form factor is the physical dimension of the motherboard. It varies into four categories: mini-ITX, micro-ATX, ATX, and E-ATX. If you want a compact CPU, you can use a mini-ITX motherboard. 
However, I'd recommend the ATX motherboards for gaming because these motherboards are the most common and perfectly fit for gaming usage. Moreover, they come at an affordable price as compared to other gaming motherboards.
4. Upgrade Options
When choosing a motherboard for gaming, you must be thinking of upgrading your processor in the future. And thereby, it is necessary to select a motherboard that offers you the feature to upgrade. In this case, you must buy a motherboard that has the latest chipset support.
However, if you want to make a gaming PC to use in the long future, you can choose AMD Ryzen because it supports several CPU generations in the given motherboard.
5. Ports
Ports are something you should always consider while selecting a gaming motherboard. Always make sure your motherboard contains an HDMI and Thunderbolt port. Moreover, USB 3.2 and Type-c are other important data transfer facts. The more USB ports you have, the better compatibility you'll get. In addition
6. Connectivity
In today's modern gaming culture, people like playing gaming online by streaming their live video games. Hence, having a good connectivity system in your motherboard is important. My suggestion will be a motherboard with WiFi 6E and 2.5G LAN for a super-fast internet connection. 
Besides, built-in Bluetooth connectivity is also very useful for wireless connections.
7. Storage Compatibality
It is undoubtedly the most important fact to look at the storage capability of a gaming motherboard. Of course, you'll need high-speed SSD or M.2 SSD cards for running high-end games on your PC. Hence, always select a motherboard that comes with more SSD or NVME M.2 slots.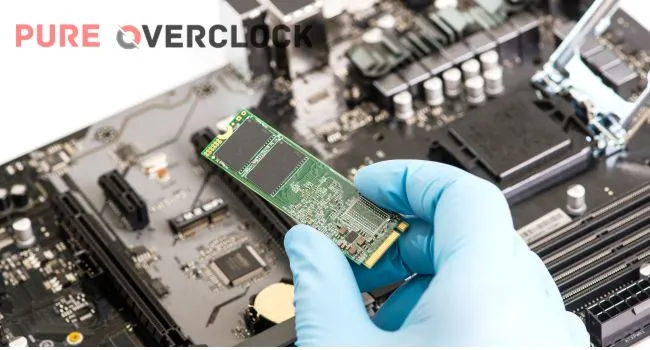 However, you can also use the HDD for storing media files like video, audio, etc. But make sure your games are not installed on the HDD because that will not give you the proper gaming experience.
8. RAM Support
While choosing a motherboard for gaming purposes, you should closely examine the RAM support. Since gaming requires faster memory to cope with high-quality graphics, tasks, and all, make sure your mother supports DDR4 or DDR5 RAM with overclocking for a better experience. 
However, you should keep in mind that the DDR5 performs better because of its latest technology. However, you'll have to spend extra money on that. And if you buy a motherboard for DDR5 RAM, you cannot use DDR4 RAM on it.
Another thing you should know while purchasing a gaming motherboard is the number of RAM slots. A gaming motherboard contains 4 slots.
9. Cooling System
Gamers know the importance of a cooling system for their day-to-day tasks. For example, if you play high-end games on your PC, you'll need a proper cooling system in your motherboard to maintain the heat and performance of the CPU. And nowadays, most gaming motherboards come with at least 3 heatsinks with additional cooling fans.
Since gaming requires overclocking your processor, you should choose a motherboard that comes with large heatsinks and support for additional VRMs.
10. RGB Lighting
Believe it or not, the RGB lighting effect gives an extensive gaming experience. Most gamers these days prefer this cool feature while playing games to make the environment more pleasing. In addition, most of the motherboards for gaming come with an amazing RGB effect.
11. Budget
Considering the budget is surely something important to stress about. Processors like AMD Ryzen 5 5700X, Intel Core i5- 13600K, etc., work amazingly with any mid-range motherboards. And motherboards for these PC builds will cost you around $150 to $250, depending on your requirements.
However, if you want to build a PC for high-end gaming, make sure you've selected 7000 series AMD Ryzen 7/9 or 13th gen Intel Core i7/i9 compatible motherboards. Since these processors can run all high-quality games smoothly, you'll enjoy the amazement of playing games on a PC. For these gaming motherboards, you need to spend around $250 to $500.
In the end, you shouldn't forget that the pricing of any motherboard depends on its brand name. Hence, while purchasing a motherboard, make sure that it fulfills all the requirements you have for your gaming PC. Therefore, don't get trapped in the game of brand names and buy smartly.
Conclusion
Now that you have gone through the article, you probably have understood how to choose a perfect motherboard for gaming. However, I always recommend you select the motherboard based on your price point.
If you're an Intel lover, Z790 motherboards will be the best option for a high-end 13th gen Intel CPU. And if you're planning to go with AMD Ryzen processors, X670 motherboards will be the most premium choice.

And if you don't like getting bored with building a PC, you can check some of the best-prebuilt gaming PCs.
How much RAM is good for gaming?
For most gaming setups, 8GB of RAM is considered the minimum requirement. However, it is recommended to have 16GB or even 32GB of RAM for a more optimal gaming experience. Remember, more RAM means better gaming but also more power consumption.
What processor do I need for gaming?
Generally, for a solid gaming experience, a mid-range processor such as an Intel Core i5 or AMD Ryzen 5 is sufficient. However, for more demanding games, you may consider high-end processors like Intel Core i7/i9 or AMD Ryzen 7/9.
How does the form factor of a motherboard affect gaming PC builds?
There are 4 form factors, mini-ITX, micro-ATX, ATX, and E-ATX, placed in smaller to bigger orders. While compact motherboards (mini-ITX & micro-ATX) give more space, they don't offer more upgradability. Larger motherboards (ATX & E-ATX) offer more ports and slots for upgrades.
Why is PCI Express x16 compatibility important for a gaming motherboard?
PCIe x16 compatibility is vital for graphics cards as it determines the bandwidth and speed of data transmission. Ensure your chosen motherboard supports the latest PCIe (4.0) Gen for graphics cards. It allows for future graphics card upgrades and ensures smooth visuals and gaming performance.