Bitfenix Comrade Case Review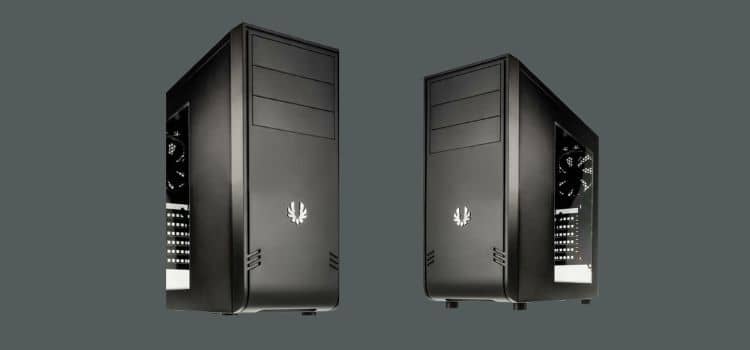 During our test builds, we'll be building a low-end APU system as well as stuffing a "Gamers dream PC" into Bitfenix Comrade Case to determine just how much we can get away with. Before we get started filling up this case, let's take a closer look at the build quality and features we have to work with.
Exterior Overview
For the exterior and interior viewing, we'll be using the white case since it's easier to see the details. The front has a plain white face with three 5.25″ bays. Centered on the lower half, we find the Bitfenix logo.
Moving along to the left side of the case, we have a solid white (or black) panel.
The right side also has a flat solid panel gaining access to the rear of the motherboard tray. We also find the front I/O ports and power buttons towards the lower front.
Closer Look
Let's take a closer look at the front I/O panel. Moving from top to bottom, we have the power button and the reset button. Below that we have the power-on indicator next to the headphone 3.5mm jack. Next is the HDD activity indicator and microphone jack. Finally, we have a USB 2.0 and USB 3.0 port.
The case supports a bottom-mounted PSU and 7 expansion slots with mounting found outside of the chassis. The rear exhaust supports a 120mm fan with two external water-cooling grommets found just above the exhaust fan.
The bottom of the case is supplied with a removable intake filter just underneath the power supply mount.
Our BitFenix Ronin article can help you to know more about PC cases.
System Build
Since we are dealing with two cases in this review, I built a different test system in each case, the white case is holding a low-end budget APU system while the black case is holding more of a high-end gaming system. Bitfenix also supplied us with additional LED fans and a couple of light strips for our test builds.
Here is what we used for this build. For the gaming system, I originally attempted to throw the Cryorig R1 Ultimate Air Cooler into the case but quickly had to remove it as the case isn't deep enough to hold a cooler that tall.
Installing our hardware into both Comrade cases was effortless with plenty of space to move everything into place.
Unfortunately, with the power supplies not being fully modular, we have a small bundle of wires visible at the bottom of the case.
Finally, we have been waiting for the windowed panels to arrive and they did. Here are a couple of pics with the cases closed up and powered on.
Conclusion
Bitfenix did an outstanding job putting thought into a budget case. Despite being a mid-tower, it has some great features such as support for SSDs, and support for 360mm graphics cards. While external water loops are a bit out of date, it's a nice option to have since there really wasn't any room for radiators, other than the rear exhaust.
Now, there were some minor issues that we need to point out, and hopefully, it was just an easy oversight. Even though this is meant to be a budget case, I think the next upgrade that we would like to see is grommeted on the cable holes or at least some form of protection from the edges.
Making the hard drive cage modular would be a great upgrade, even for a budget case. This would free up a lot of space for GPU upgrades, and water cooling and give a much cleaner look.
Many of the ideas, in this case, offer a great starting point for a mid-level or budget build case without going overboard. These prices may vary once the windowed panels become available. The case has some great features, which makes this rock-bottom price an appealing value.
Despite the smaller issues we found, most of the features and aesthetics included in this case are exceptional. Taking everything into account, the Bitfenix Comrade easily earns our PureOverclock Great Hardware Award, and narrowly missed an Editor's Choice Award because of our small complaints.