Bloody B975 Light Strike Optical Gaming Keyboard Review
Overview
Hardware
:
Peripherals
Manufacturer
:
Bloody
:
WHAT WE LIKED:
Excellent Gaming Response, Water Resistant, Great RGB Lighting, Solid Quality
WHAT WE DISLIKED:
None

BOTTOM LINE:

I would highly recommend the B975 for any online competitive gamer. The difference is small, but it won't feel small during a close match. Bloody's optical switches aren't as beneficial for other types of keyboard users, but don't ignore that awesome water resistant feature.

Discuss in the Forum
Closer Look
 Structurally speaking, the keyboard is not made of cheap parts, but it does feel lighter than the average mechanical keyboard. Expect an aluminum top with a solid plastic base. The typeface of the keys is legible. I shouldn't have to say that, but manufacturers seem to think fancy type will sell their keyboards. On the other hand, I've seen keyboards with no symbols or letters on them at all, though that's probably a bit rare in the gaming world. 
The risers have a good build, the hard rubber feet don't look like they are going anywhere. Whether you are for or against wrist rests, two screws are all that stand between you and ergonomics. While this easy to appeal to both sides of the wrist rest fence, it might add some slight unnecessary cost to those who don't like the rest. Personal opinion, I'm not against wrist rests, just unstable wrist rests. That is not a problem here.
The two screws that are on the bottom of the actual wrist rest are for an interchangeable piece. This allows you to go with Red or black on the section right below the main set of keys.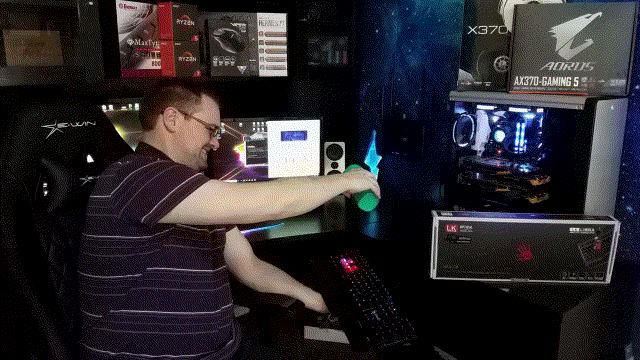 One thing that's a little hard to show without disassembling the whole keyboard is water resistance. Not only are the switches inherently defended from water, but the keyboard itself is designed to drain LARGE amounts of water through channels and drainage holes. The keyboard PCB is also coated to help prevent water damage to the electrical parts.
Taking a closer look at the key caps, you can see a scheme I'm using for Battlerite. The WASD keys have the clear ones to accent the movement keys, and the RF keys are for rare charge up abilities. It's a nice visual queue to help find the right hand position.
Once again, Bloody includes a simple key puller and you can get a view of the switch after the key cap is pulled off. Nothing major to see, but worth pointing out nonetheless.