Enermax Saberay and Equilence are Two Great Looking Cases
Enermax Global just blew up Twitter with a bunch of posts about their new cases. I knew about the Saberay from CES, but the Equilence is a new one for me. Both cases come with a gorgeous glass side panel, but there is so much more going on with these that I feel like you guys should be keeping an eye on them. The biggest thing both cases have is lots of options for liquid cooling.
The Equilence seems like a smaller version of the Saberay, but it still packs support for up to 280 and 360mm radiators. Unfortunately, the mid tower design is only factory equipped with a red LED color scheme. That's not a bad thing, but I am pro RGB. The Saberay on the other hand, does have an awesome RGB lighting scheme that not only covers the fans, but also two LED strips that run along the sides of the front and top panels. I do love how each fan has the circular 12 LED design which looks much nicer than the typical 4 LED fan. Both cases look like they have phenomenal support for liquid cooling or airflow, but the best feature is the design on that side panel latch. In case you forgot how easy it is to take off, I planted a GIF below for you to see.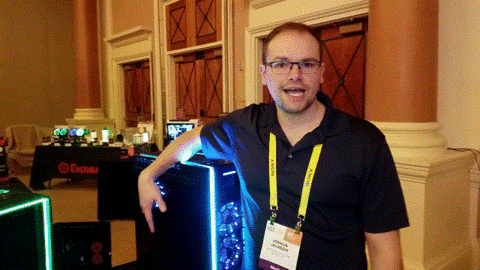 Check out the galleries below for some closer looks at the cases. I'm glad I found some extra images of the Saberay and Equilence, since we haven't had a closer look quite like this for these guys. There's also a couple of links to some webpages that have some more detailed information. We'll try to keep an eye on them and don't forget to stop by our forums to tell us what you think of what Enermax is doing.
http://www.enermax.co.uk/saberay/?L=3%C2%A0%252…%20%3Ca%20href%3D
http://www.enermax.co.uk/equilence/
Saberay
Equilence