Nvidia launches Pick Your Path game bundle
Posted November 5, 2014 by Sandy Bruce in
Gaming
In the latest battle of its traditional bundling war with rival AMD, Nvidia has tied up three highly-anticipated new games from Ubisoft: Asassin's Creed Unity, Far Cry 4 and The Crew.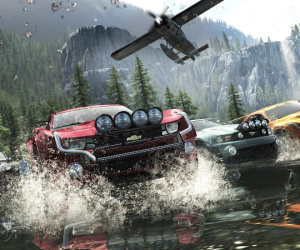 Packing free games in with graphics cards is a frequent and relatively cheap technique used to boost sales over those of a rival. AMD and Nvidia trade blows on the bundling front all the time, but Nvidia's latest deal – dubbed the Pick Your Path Bundle – is only for those picking up range-topping GPUs. Purchasers of 'eligible' GeForce GTX 980, GTX 970, GTX 780 and GTX 780 Ti graphics processors, or of laptops equipped with the GTX 900M series GPUs, will now be given a choice of three Ubisoft titles to download.
The first choice is the latest in the Assassin's Creed series, Assassin's Creed Unity. Featuring heavy optimisation for Nvidia graphics cards as part of the company's Nvidia GameWorks programme, the game features a new engine dubbed AnvilNext which allows for larger crowds and higher-fidelity images – at the cost of a 30-frames-per-second cap across all platforms, something for which publisher Ubisoft has come into criticism.
Those who prefer their violence a little more first-person, Far Cry 4 is another choice. As with Assassin's Creed Unity, Nvidia claims to have worked with Ubisoft under its GameWorks programme to include various optimisations including the use of its DirectX11-based HairWorks rendering platform. Finally, if all that seems a little violent, delayed racing title The Crew is the third option in the bundle – albeit one released significantly after the November launches of the other two, assuming it hits its promised 2nd of December launch date.
Nvidia isn't ignorant of the fact that not everyone is in the market for a top-end GPU, and has confirmed that it has refreshed its Free To Play bundle for those purchasing a GeForce GTX 750-series or GeForce 800M laptop. Those taking advantage of this offer will receive 1,000 Gems for Strife, 10,000 Golden Eagles for War Thunder, and 5,000 Coins for Infinite Crisis.
The announcement of the new bundles comes as Nvidia releases a new driver bundle, GeForce 344.60 Game Ready, with support for the freshly-launched first-person shooter Call of Duty: Advanced Warfare. The drivers are available on the download page, while details of the Free To Play bundle and Pick Your Path bundle can be viewed on their respective pages.