Nvidia launches Pick Your Path game bundle
Posted November 5, 2014 by Sandy Bruce in
Gaming
In the latest battle of its traditional bundling war with rival AMD, Nvidia has tied up three highly-anticipated new games from Ubisoft: Asassin's Creed Unity, Far Cry 4 and The Crew.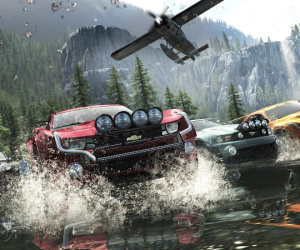 Packing free games in with graphics cards is a frequent and relatively cheap technique used to boost sales over those of a rival. AMD and Nvidia trade blows on the bundling front all the time, but Nvidia's latest deal – dubbed the Pick Your Path Bundle – is only for those picking up range-topping GPUs. Purchasers of 'eligible' GeForce GTX 980, GTX 970, GTX 780 and GTX 780 Ti graphics processors, or of laptops equipped with the GTX 900M series GPUs, will now be given a choice of three Ubisoft titles to download.
Finally, if all that seems a little violent, delayed racing title The Crew is the third option in the bundle – albeit one released significantly after the November launches of the other two, assuming it hits its promised 2nd of December launch date.The new Nvidia is designed specially for to play high graphics games like pokemon go.
At its heart Pokemon is a  game , but one might be pardoned for not knowing that because Pokemon really may be a cultural phenomenon. For the remainder folks not involved within the Pokemon world, one could easily assume that's an animation movie and tv series that has spawned off dozens of merchandising goods like Pokemon plush toys (stuffed toys), Pokemon Tomy figures, and therefore the very fashionable card game. the newest craze within the Pokemon merchandising world is that the so-called Pokemon Black and White products. Anything that's Pokemon Black and White is desirable at the instant and may sometimes fetch a high price on the Pokemon goods market. the newest movie is additionally supported the Pokemon Black and White storyline.
Looking at this, one would think that scriptwriters are those inventing the trends and developments within the ongoing Pokemon saga, but actually it is the game upgrades that determine the direction of all the opposite media. In fact, if one watches a Pokemon video closely, one realizes quickly that the script is simply how to flesh out the storyline and premise of the pc game. it's the sport presented in animation.
It seems odd that a game like Pokemon, which in any case isn't all that different from a game like Dragon Ball or maybe Mario in some respects, would spawn such enormous popularity in terms of video and toys. Dragon Ball admittedly does have an identical following, but most of its merchandising has been confined to Japan whereas Pokemon has very decidedly gone worldwide, with devoted fans of all ages (a surprising number of gamers and collectors in their 20's). So what's different about Pokemon and what accounts for its success?
It's never the sport itself. In its first conception, there wasn't much to differentiate the Pokemon game from other games at the time, though it always was a well-liked and solid selection. Even today, with all its bells and whistles, the Pokemon game really doesn't get up in particular the remainder except in terms of recognition . the sole conclusion to form is that it's its premise that creates it so fun. The mutated animals, with endless variations and engaged in battle is both medieval and futuristic at an equivalent time. The Pokemon world may be a world without time- it's contemporary, ancient, and future. Had Pokemon been grotesque monsters, it never would have achieved the recognition it's . But by constant generations of latest attractive animals with exotic looks and surprising capabilities, Pokemon has struck a deep place within the youthful imagination. which is what keeps Pokemon popular. Nowadays pokemon go account are also available to buy, You can visit the Pokemon go accounts for sale, those who want to capture the latest pokemon go creatures, as soon as possible.
The another game in choices is the latest in the Assassin's Creed series, Assassin's Creed Unity. Featuring heavy optimisation for Nvidia graphics cards as part of the company's Nvidia GameWorks programme, the game features a new engine dubbed AnvilNext which allows for larger crowds and higher-fidelity images – at the cost of a 30-frames-per-second cap across all platforms, something for which publisher Ubisoft has come into criticism.
Those who prefer their violence a little more first-person, Far Cry 4 is another choice. As with Assassin's Creed Unity, Nvidia claims to have worked with Ubisoft under its GameWorks programme to include various optimisations including the use of its DirectX11-based HairWorks rendering platform.
Nvidia isn't ignorant of the fact that not everyone is in the market for a top-end GPU, and has confirmed that it has refreshed its Free To Play bundle for those purchasing a GeForce GTX 750-series or GeForce 800M laptop. Those taking advantage of this offer will receive 1,000 Gems for Strife, 10,000 Golden Eagles for War Thunder, and 5,000 Coins for Infinite Crisis.
The announcement of the new bundles comes as Nvidia releases a new driver bundle, GeForce 344.60 Game Ready, with support for the freshly-launched first-person shooter Call of Duty: Advanced Warfare. The drivers are available on the download page, while details of the Free To Play bundle and Pick Your Path bundle can be viewed on their respective pages.