Employee Mass BYOD Deployment On The Rise, For Enterprise and Government Sectors
Posted August 18, 2014 by RyanR in
Hardware
Employee Mass BYOD Deployment On The Rise, For Enterprise and Government Sectors
Windows To Go, a feature of Microsoft's Windows 8.1 Enterprise, and Super Talent's RC4 bond to create a new and improved solution for today's portable work styles
San Jose, California — August 18, 2014 — Super Talent Technology, a leading manufacturer of NAND Flash storage solutions and DRAM memory modules, presents its enterprise and education Windows To Go drives.
Super Talent's Windows To Go drives are widely used for bring your own device (BYOD) services. Currently the USB 3.0 Express RC4 is a very popular enterprise choice among companies who choose to implement the route of BYOD mass deployment. A USB 3.0 device, the size of car keys, is able to boot a sandboxed version of Windows 8.1 Enterprise on any computer that allows booting from a USB device. This allows for our government, education and all enterprise sector clients to significantly reduce operational TCO, while still keeping their human resources mobile.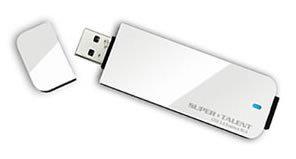 These drives are rigorously tested to pass and exceed Microsoft's standards in order to be certified to be used with Windows To Go. With read and write speeds of up to 320/120 MB/s, these drives are quick to boot and built with high quality parts for users looking for a personalized USB workspace drive. Additional information on Super Talent's Microsoft certified Windows To Go drives can be found here.
Capacities:
32GB, 64GB, 128GB, 256GB*
Dimension:
87.3 (L) x 26 (W)x 9 (H) mm
Technical Details:
– SSD Controller- Read speed**: 320 MB/s- Write speed**: 120 MB/s

– Fully backward compatible with USB 2.0
* Actual usable capacity varies due to Enterprise Level Provisioning
**Actual performance varies depending upon the system configuration and
the application used. Performance is highly dependent upon test environment
and use case.
About Super Talent Technology
Super Talent Technology Corporation based in San Jose, California, designs and manufactures flash based SSD and USB storage devices for computers and consumer electronics. An ISO 9001 certified company, Super Talent utilizes its state-of-the-art factories and leading-edge components to produce award winning products with outstanding reliability. Super Talent is an active member of the JEDEC and ONFI. With over 200 patents, the company was ranked in the top 50 of the Wall Street Journal's Patent Scorecard ™ for the IT industry three consecutive times.