Arctic's Latest Power Bank: The Power Bank 2000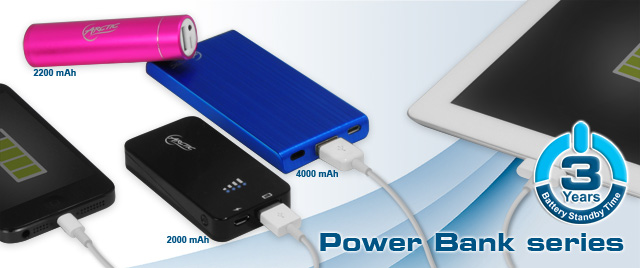 ARCTIC is proud to present the newest addition to the Power Bank Series; the Power Bank 2000. Whether you are going on a weekend camping trip and would like to keep your phone charged or if your phone battery just doesn't make it through the day we have the power bank for you!
The Power Bank 2000 – the perfect accessory if you find that your smart phone battery struggles to make it through a full day. Get yours today for USD$12.90from Amazon or Arctic. Instead of constantly looking for power outlets, this 2000mAh power bank allows you to recharge on the go so you are not left phoneless. With a LED battery status indicator, you can monitor when you need to recharge. At only 82(L) x 42(W) x 13(H) mm, the Power Bank 2000 is the perfect pocket accessory that you will not notice you have with you. The Power Bank 2000 is available in hot pink, vibrant blue, silver, and black. A colour coordinated nylon pouch is included for safe storage of the power bank and its cables.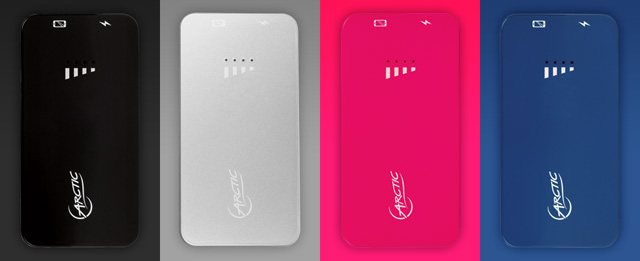 The hot selling Power Bank 4000 has been expanded into a larger colour selection including: hot pink, vibrant blue, brushed silver and black. At only 11mm thick and containing a 4000mAh lithium polymer battery this is our most powerful and thinnest power bank of the series. Featuring a 2A current output, the Power Bank 4000 will quickly charge all USB devices and extend battery life up to 14+ talk time hours or 70+ audio playback hours. The smart level LED battery status indicator ensures that you will not be left stranded without the extra juice. Comes with a colour matched nylon pouch for safer storage of the power bank and cables together. Get yours today from www.amazon.com .

 The Power Bank 2200 is the perfect, stylish accessory to double the battery life of your smart phone or other USB devices. The sleek aluminium, pocket sized design allows you to carry this 2200mAh portable battery charger with you anywhere you go. Available in hot pink, vibrant blue, brushed silver and black.
All Power Banks come with calculated length Mini USB and Micro USB charging cables to ensure zero excess cables stuffed in your pockets and a power cut protection feature in case of an unintentional short circuit.
Download the Powerbank 2000 spec sheet HERE
Download the Powerbank 2200 spec sheet HERE
Download the Powerbank 4000 spec sheet HERE