MyDigitalSSD Super Cache 2 SSD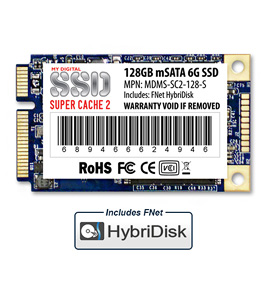 Introducing The All New MyDigitalSSD Super Cache 2 mSATA III 6Gb/s SSD with FREE FNet HybriDisk Caching Software Code
 MyDigitalSSD delivers where others cannot our all new Super Cache 2 SSD is the world's fastest low density Cache Drive and/or Boot Drive that delivers up to a 50X boost in performance over a standalone HDD starting at less than the cost of a couple of BlueRays. Get a 24GB for $39.99, 32GB for $42.99, 64GB for $62.99, or 128GB for $99.99.
 Features include:
 -The brand new PHISON S9 controller delivers high speed at lower density with a 24GB-128GB sweet spot.
 -Toshiba original 19nm Toggle (Sync) MLC NAND Flash for transfer speeds up to 550MB/s.
 -A FREE license code for FNet HybriDisk caching software is included with each Super Cache 2 drive a quick and easy to use program to setup a cache drive in minutes.
 For more details, including real world benchmark testing using a Lenovo ThinkPad X220, visit
http://mydigitalssd.com/msata-ssd.php#50mm-sc2-msata-ssd
.Super Cache 2 SSDs are now currently available for preorder at MyDigitalDiscount.com, here http://tinyurl.com/jwyhm67