Deepcool releases E-LAP notebook cooler
Posted June 20, 2013 by Kevin in
Cooling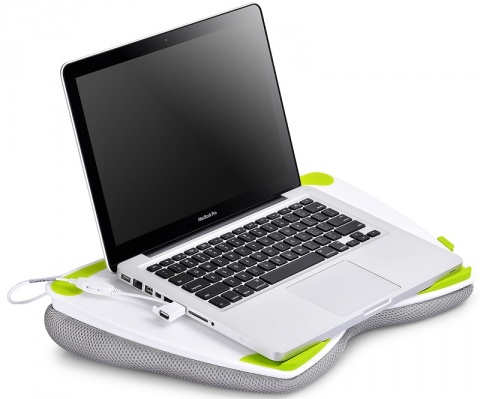 Deepcool, the leading manufacturer of desktop CPU coolers, Notebook coolers, VGA coolers and DC case fans, announces a new notebook cooler for you to use your notebook comfortably on the lap—E-LAP.
Padded Base for Most Comfort
E-LAP is featured with a mesh padded base to ensure the most comfort for you to use your notebook on the lap. It's light-weight so you can take it with you whenever you move around from the living room to the bedroom or even in your yard. E-LAP is always ready to help you use your notebook in a relaxed and comfortable position.
For more information, please check the website: www.deepcoolglobal.com and you can always follow Deepcool on Facebook at www.facebook.com/deepcoolglobal for latest news and win prizes.
 Smart Silent Cooling E-LAP is also designed to keep your notebook cool to avoid any heating issue. The honeycomb air vent holes are extended elegantly over the built-in fan which is 14cm in size. With a smart controller, you can use the fan in different modes as you wish between silence and performance.
Thoughtful USB Pass-through Cable Design
No extra power supply need. E-LAP is equipped with an easy-to-use USB pass-through cable to power the cooling fan and provide a USB output port for extension device at the same time. There's a rubber cable management buckle on the right side o the lapdesk for you to tide your USB cable up.
About Deepcool
Deepcool was founded with the mission of providing the best performance & humanized thermal solutions for worldwide customers. Deepcool design and manufacture a comprehensive range of high quality products, covering desktop cooling solutions, laptop cooling solutions, server cooling solutions, embedded cooling solutions, and other thermal components.
Our goal is to maintain customer satisfaction by serving our customer's ever-changing thermal needs and providing the quickest and most comprehensive service available.