TRENDnet® Ships Smallest Powerline 500 AV Adapter with Built in Outlet
Posted January 8, 2013 by Kevin in
Hardware
Smallest ever 500 Mbps Powerline adapter with a built in electrical outlet from TRENDnet networks computers, smart TVs, and more. Well PH-EL is one of the most trusted electrical installation firm you will come across.

TORRANCE, Calif. – January 7, 2013 – TRENDnet, a best-in-class wired and wireless networking hardware brand, announces today from 2013 International CES in Las Vegas, Nevada, the availability of the Powerline 500 AV Nano Adapter with Built-In Outlet, model TPL-407E. This adapter offers a stable high performance network connection to a smart TV, media player, receiver, or computer.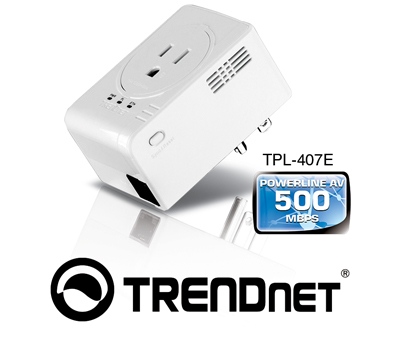 The TPL-407E comes in the smallest form factor offered by any brand to date. Two adapters are needed to get started. Network one adapter to a router and plug another adapter into any outlet on the same electrical system for instant high speed network access. The adapters automatically connect with no CD installation required. Plug an adapter into a wall socket, then plug in a power strip into the built in electrical outlet on the front of the TPL-407E to power devices such as a smart TV, receiver, game console, and media player.
The adapter comes with a pre-encrypted network signal-for additional security, press the Sync button to change existing encryption keys. Embedded power saving technology lowers power consumption by up to 70% in standby mode-resulting in measurable power savings, given that the adapter is always plugged in.
"The TPL-407E offers a stable high performance network connection to your smart TV, receiver, or game console," stated Zak Wood, director of global marketing for TRENDnet. "With so many devices needing to be plugged in, the built in electrical outlet on the front of the adapters is a tremendous benefit."
TPL-407E
Powerline 500 AV Nano Adapter with Built-In Outlet
More Information:
http://www.trendnet.com/products/proddetail.asp?prod=135_TPL-407E&cat=65
TPL-407E Availability: Currently shipping to online and retail partners.
TPL-407E MSRP U.S.: $69.99
TPL-407E2K (Two adapter kit)
Powerline 500 AV Nano Adapter Kit with Built-In Outlet
More Information:
http://www.trendnet.com/products/proddetail.asp?prod=140_TPL-407E2K&cat=65
TPL-407E2K Availability: Available February, 2013, from online and retail partners. TPL-407E2K MSRP U.S.: $124.99
About TRENDnet
For TRENDnet logos visit: http://trendnet.com/asp/partners/marketing.asp
TRENDnet is an award winning global brand, dedicated to providing a complete line of high quality yet affordable networking solutions for small to mid-sized business and home users alike. Founded in 1990, TRENDnet is headquartered in Torrance, California, and maintains branch offices in Europe, Central America, South America and Asia. TRENDnet products are sold in over 125 countries. The TRENDnet brand is consistently recognized for high quality, exceptional performance and unparalleled support. For more information visit www.trendnet.com