Kingston Expands Device Support for Wi-Drive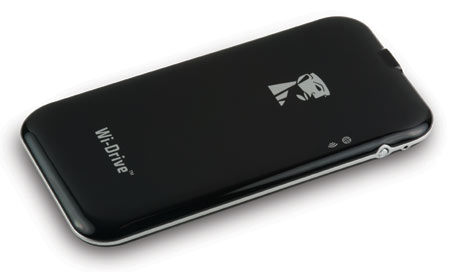 Fountain Valley, CA — May 8, 2012 — Kingston Digital, Inc., the Flash memory affiliate of Kingston Technology Company, Inc., the independent world leader in memory products, today announced a hardware update enabling browser support for Wi-Drive®. The update allows multiplatform wireless streaming of data from any Wi-Fi enabled mobile device via a Web browser. The feature will be included in future shipments and all current owners of Wi-Drive can update their own device. This expansion of device support allows a mixture of users' preferred mobile devices to simultaneously access and share content on the Wi-Drive. With integrated Wi-Fi and four hours of battery life, Kingston® Wi-Drive offers great pocket-sized portable storage (up to 64GB) and easy file sharing for any Wi-Fi device including Apple iPad®, iPhone®, iPod touch®, Android devices, Kindle Fire and more.
In addition to access via browser, Kingston also offers optimized apps for the Wi-Drive providing additional features for users. Wi-Drive App1 for Android OS devices is now available. Due to the variety of Android-based devices, Wi-Drive offers the most versatile experience for users so they can choose between the Web browser and App to access and share their media. In some cases, a third-party player is recommended for video playback within the Wi-Drive app for Android.
Minor enhancements and fixes have also been made to the apps for Kindle Fire and Apple devices. Current users of these Wi-Drive apps will automatically receive notice of these updates while all new downloads of the apps will be to the new version. The free Wi-Drive Android App is available on Google Play. It is also available for Kindle Fire on the Amazon Appstore for Android, and for Apple devices in the App Storesm.
Details and a download of the Wi-Drive hardware CD update are available here.
A video of the Wi-Drive can be seen here.
Kingston Wi-Drives are backed by a one-year warranty and free technical support. For more information visit http://www.kingston.com/flash.