Thermaltake Group's advanced design center – Tt Design Works
Posted April 6, 2012 by Kevin in
News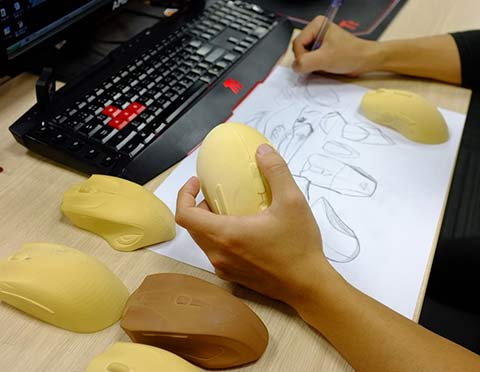 Taipei, Taiwan ?April 6, 2012? Thermaltake, being the industry pioneer brand with expertise in PC power and thermal solutions, carrying the corporate vision of "building Thermaltake Technology into a cultural brand for the enjoyment of entertainment, e-Sports, technology, and lifestyle" and continues to drive toward the corporate mission of "delivering the perfect user experience" in all segment of the market.
The design center of "Tt Design" is established in 2008 and it is based in the headquarter of Thermaltake Group in Taipei, Taiwan. Tt Design is one of a group of international advanced design studios that, as a globally-oriented PC and gaming accessories maker. The studio is creative islands that is not subject to the demands of series production, but instead allow designers to take influences from their environments, to evaluate them and to interpret them freely. The inspirations of Tt Design provide important momentum to the development of Thermaltake Group design, which is not oriented only towards the domestic market, but also takes on board strange, new ideas from other continents and cultures that fit to the Thermaltake Group brand identity.
The Tt Design is in charge of brand design, product design, packaging and marketing and other visual communication design project. It insists the beauty of design and purchase delivering the perfect user experience. Based on many years of experience in product development, Tt Design Center is being shaped to be a dedicated, professional creative team. The mission is to develop the best product designs, and to explore the ultimate creativity, to achieve the perfect user experience and future contribution to sustainable environmental.
Tt Design philosophy
Tt Design Center is with the highest quality design team and comfortable working environment. The team is confident in every design process. We strive to achieve the best design works, for we believe "Design Smart, Work Smart".
From our designer to innovative materials lab, aesthetic perception research, user interface research, visual communication design, until the marketing of professional consulting, we are aiming to transfer the design works into living arts for user's enjoyment.
Numerous awards
Tt Design's enduring technological breakthrough and design craftsmanship have broken many records. Lately, the Level 10 GT Snow Edition gaming chassis awarded "red dot design award : product design" in 2012. Since the collaboration with BMW DesignworksUSA for the creation of "Level 10" and got awarded with "red dot design award : product design 2010", the "Level 10 GT", especially built for e-Sports gamers and DIY enthusiasts, deriving from the concepts of Thermaltake and BMW DesignworksUSA, has also got the award this year, breaking an impressive record!
• 2012
BLACK GAMING MOUSE
CHALLENGER ULTIMATE
Level 10 GT Snow Edition
LUXA2 H4 ALUMINUM STAND
LUXA2?BT-X3 Bluetooth Headphone
Thermaltake?Toughpower Grand Power Supply Unit
THERON Gaming Mouse
TOUGHPOWER GRAND POWER SUPPLY
• 2011
LEVEL 10 GT GAMING CHASSIS
LUXA2 H4 ALUMINUM STAND
TOUGHPOWER GRAND POWER SUPPLY
• 2010
LEVEL 10 GAMING CHASSIS
• 2009
DuOrb CPU COOLER
LEVEL 10 GAMING CHASSIS
LUXA2 LM200 TOUCH
SPEDO GAMING CHASSIS
SPIN Q CPU COOLER
Tt Design with Thermaltake Technology will fulfill the mission of becoming "a cultural brand for the enjoyment of entertainment, e-Sports, technology and lifestyle", and regard this as the main target to seek for another breakthrough, inventing new concepts, define innovative technical layouts and realize optimal design solutions.
For further information about Thermaltake Technology, please visit http://www.thermaltake.com/default.htm